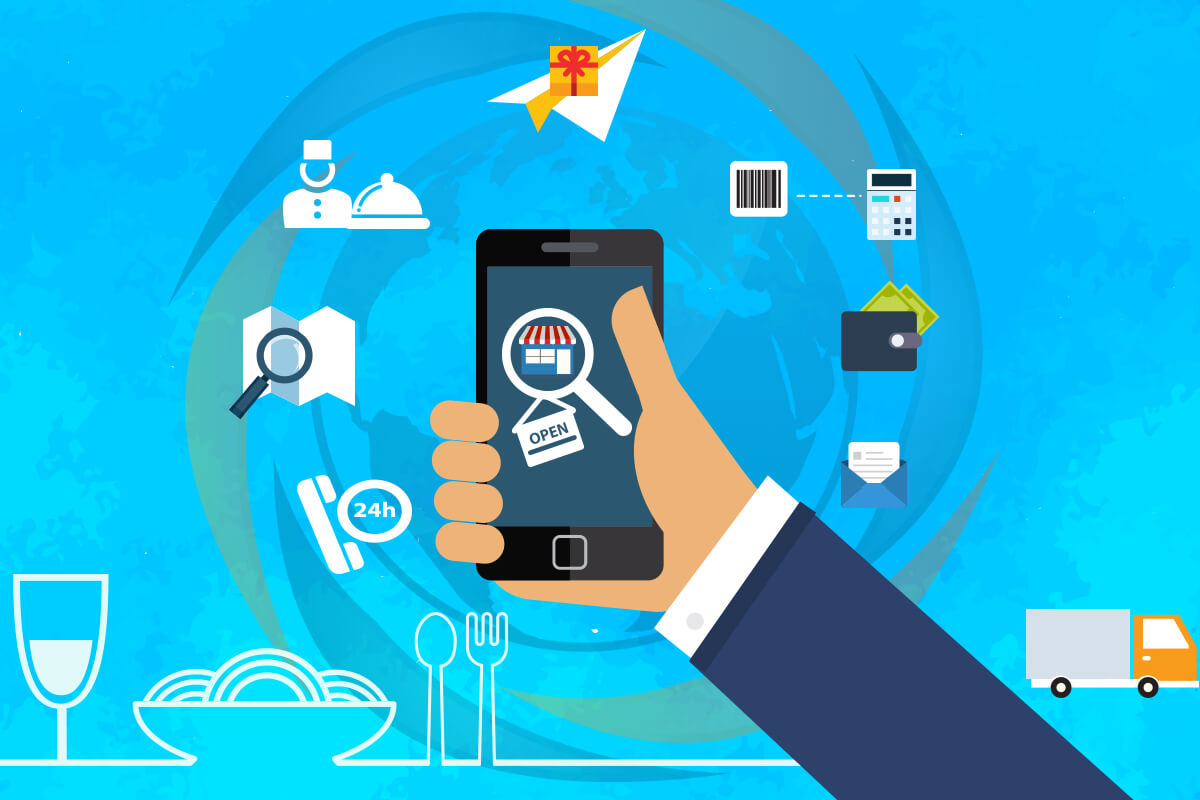 Tap-on-the-App to funnel your customers at your restaurant for a delicious 7 Meal course in 7 steps in less than 7 minutes –
1) APPETIZER : Restaurant app to find best Restaurant –
Search for restaurants according to your preferred choice of food.
The Geo-location function and advanced filters help you easily discover restaurants around you.
Bookmarks help you maintain an easy-reference list of places you wish to visit.
Use map view or draw a circle for location-specific search.
2) SOUP : Booking Engine / Search Menus –
Browse interactive, real-time, up-to-date restaurant menus.
Saved menus are available in offline mode.
Customize your order in minimum 2-3 touch.
View digitized menus of restaurants.
Categorized menu items avoid scrolling through the whole list.
The food description and added modifiers help customers to order and modify the dish.
Search for your favorite cuisines & popular dishes.
Explore ingredients, food photography and original recipes.
3) SALAD : Order, Invoice, Payment, Logistics, Delivery –
Order food on the go, for now, wherever you are or choose a delivery time convenient for you.
Past saved orders make reordering easy and fast.
Receive live updates about your order.
Track orders to know the preparation and delivery time.
Get new alerts on unpredictable delays.
Pay securely with Apple Pay or PayPal!, Pay online, or with cash on delivery, PayUmoney, Mobikwik, or Paytm wallets!, Credit/Debit Card.
Use Guest Ordering Capability feature.
Use Integrated Mobile Payments + Customer Management Tool.
Location-aware feature of the app guarantees faster food delivery.
The sending of updates and alerts to waiting guest through the app improves customer service.
4) ENTRÉE: Reviews, Ratings, Feedback, Loyalty Program –
Read customer & critic reviews.
Post reviews, feedback, pictures, and check-ins at restaurants, mark and view favorites, mark restaurant you want to try and see your call and search history.
Get answers to your feedback.
Get track of latest exclusive offers and promos, deals and vouchers, coupons, happy hours or customer loyalty programs, gift certificates, Specials – Breakfast, Desserts, Meals & More.
Enjoy discounts on best restaurants or food delivery through app.
Refer your friends to earn free meals or cash to pay for your orders.
Micros POS Integrated Loyalty, Rewards, Gift Card, App, and Next Generation Cloud CRM will help you increase profits.
Inbuilt feedback system improvises feedback exchange.
The digital rewards system allows diners to scan codes or reward cards in every visit, collecting rewards.
App offers financial and other incentive-based rewards, customized to customer profiles.
5) SORBET: Inventory Management –
Organize inventory & flow control of materials.
Track your restaurant inventory, in real time.
Streamline your order management and easily manage complex inventory database.
Track sales, revenues and balance sheet daily, weekly, monthly and yearly.
Track inventory for business bookkeeping and tax purposes.
Useful for business or warehouse administrators, sales people, managers and business owners to streamline all business operations.
Barcode support is available to scan products.
App automates your inventory management and stores everything in the cloud, where you can access it from anywhere.
6) CHEESE : Staff Management / Human Resource –
Managers receive real-time alerts, automated alerts and status updates.
Improved cost control happens with employee hour monitoring and overtime alerts.
Cloud-based storage is possible with the app.
Integration with your website and Facebook page helps update your menu across all platforms.
Communication becomes easier between you and your employees.
You can post time schedules, your employees can request shift changes and all can coordinate on time off.
Employee training becomes effective with the app.
Restaurant owners can access real-time business analytics.
You can get live access to key performance indicators, including labor costs, sales, check count and ticket times and matches current metrics with historical data to highlight patterns, progress, and problems.
Grade employee performance based on key factors and reward top performers.
7) DESSERT : Customer Service/Features –
Receive a 2-minute warning call to meet your food delivery person.
Get a reminder of your commitment.
Use In-app table booking feature.
Enjoy Easy Checkout process.
Interactive and educational games also available.
User-friendly, UI improvements, Bugfixes
Support for watchOS 2.
Responsive design
Performance optimization
Easy OTP based one-time login
New seamless navigation
Accurate search results
Healthier food choices as you can receive nutrition tips.
'Add to Calendar' feature notifies you about all event details in town.
Custom POS solution available.
Mobile App Push Notifications
Automated multi-channel marketing
One Touch Browse
Security features
Live graphs
Reduce payroll costs
Improve customer satisfaction by speedy service
Table-management solution
Built-in extras include a barcode scanner, multiple currency support, database backup and restore, password protection, and auto-default values
Social media integration
Flexible and scalable
Kitchen management & back office management
Dashboards and alerts
If you want to build your 1-Stop NATIVE Restaurant App, contact us.