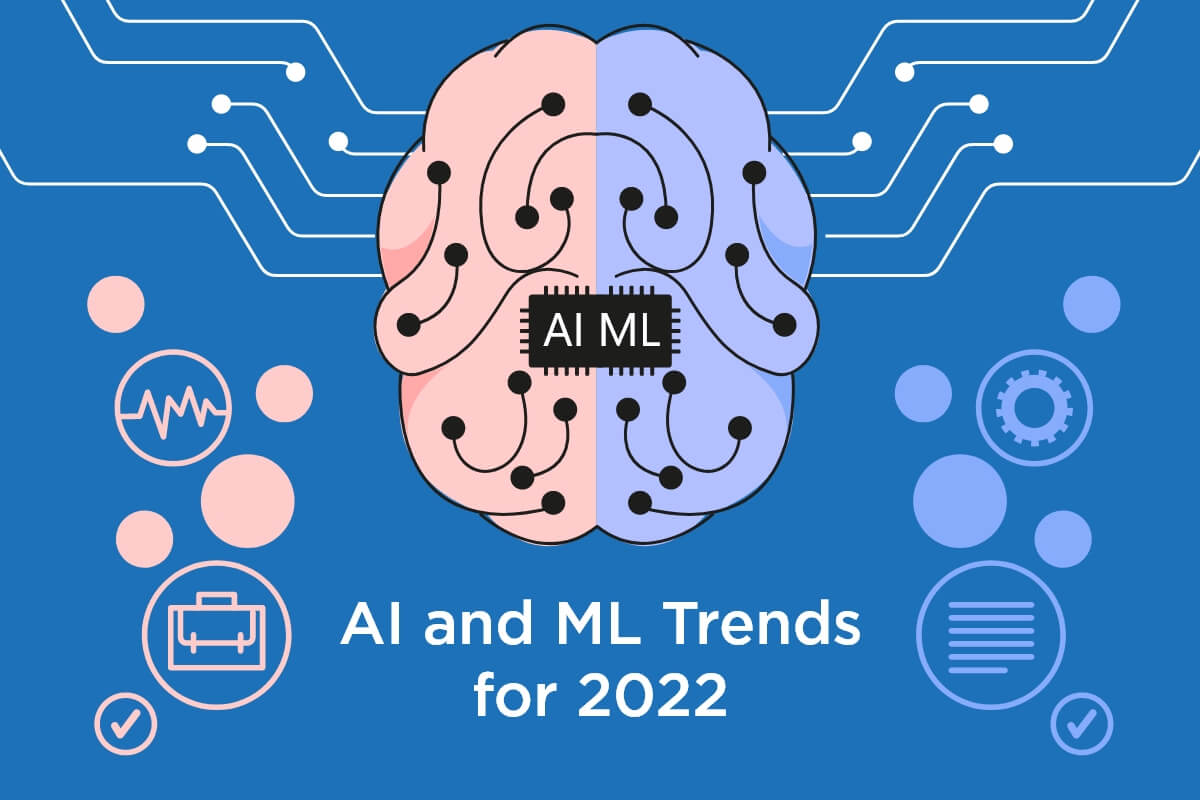 AI (Artificial Intelligence) & ML (Machine Learning) trends are transforming the world around us like never before. With the constant evolution of technology, AI & MI are becoming an integral part of human life. Some industry leaders believe AI will prove to be more valuable than the invention of fire itself!
Now, if you think this statement is too exaggerated, take a look around you. AI is taking over across multiple fields, including medical, space exploration, fighting environmental challenges & hundreds of other fields. That's the reason why every business is planning to hire machine learning engineers.
We believe AI & ML hold immense potential down the lane & there is no way to predict exactly how much they will impact the world. But, we know one thing for sure, AI & ML are the future of the Digital world. So here we are, with some of the top Artificial Intelligence and Machine Learning Trends that will dominate 2022. Let's take a look.
Top AI (Artificial Intelligence) and ML (Machine Learning) Trends to Look Out for in 2022
Ever since the two technologies have emerged, there have been fears that the technologies will replace the human workforce and make some of the jobs obsolete. However, after integrating the technologies in their system, businesses noticed that working with the technologies side by side with the cognitive functionalities boosted the skills and abilities of their employees.
For instance, for marketing, businesses use AI (Artificial Intelligence) and ML (Machine Learning) Trends and tools to help them with lead generation. This artificial intelligence (AI) trend makes more and more businesses adopt the technology. Furthermore, both technologies are employed widely in various fields of knowledge, including law, to find out the correct information needed for a specific task and to handle the increasing data every day.
Natural Language Processing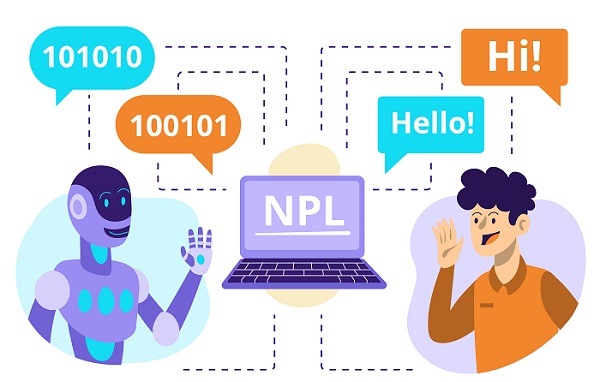 Image Source
Considered the most widely utilised AI tech right now, NLP or Natural Language Processing will dominate in 2022. If you have noticed the trend in the past couple of years, the no. of people using voice commands to interact with their gadgets are constantly on the rise.
With the introduction of futuristic NLP models like GPT-3, language processing will experience extreme advancements. The development of such models will pave the way for more human-like conversations between machines & humans.
NLP technologies like Machine Learning, Sentiment analysis & automatic video caption creation will dominate 2022. Converting natural language into machine codes is becoming too mainstream & we believe the trend will continue in 2022.
Highly Functional Workforce
The naysayers of AI & ML are constantly opposing the technology itself, claiming it will result in millions of job losses. But the numbers suggest something different. Several types of research show that once organisations started incorporating AI & ML into their existing business models, the employees have improved their cognitive & decision-making abilities.
This means by fusing human intelligence & AI, we can create a highly available workforce that will help us achieve the goals that we feel are far-fetched right now.
And the implementation has already begun in a few cases. E.g., preventive maintenance & advanced Marketing using AI/ML, where businesses are getting far better results than before.
In short, AI & ML will ensure that humans will be able to do their jobs more easily, instead of losing them.
Cyber security has always been a primary concern related to the digital world. With almost every individual having an online presence & their data being available online, there is a far greater risk of cybercrimes than you can imagine.
But, with AI & MI tools, it will become extremely easy to fight against these crimes. AI & ML tools can easily identify the patterns & codes that reek malicious intent, even before they attack your system.
This structure will offer enhanced security to each individual connected to the global network. So we believe Cyber security using Machine Learning & Artificial Intelligence will be the front runner in 2022.
Virtual Reality (MetaVerse)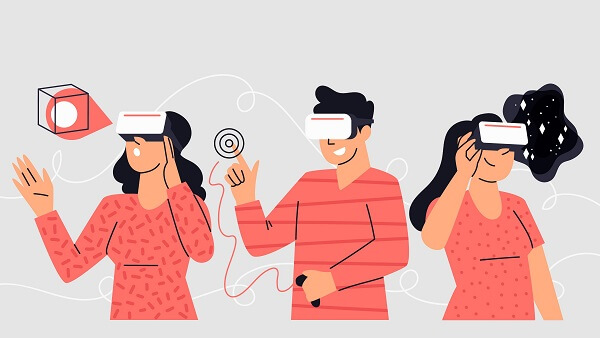 Well, who doesn't know about Metaverse, right! After Mark Zuckerberg announced that Facebook is now Meta, the whole world went gaga on the topic! And there is a reason for that.
Virtual reality, often known as the Metaverse, is the future in which people will be able to collaborate for gaming and work with immersive realistic experiences. With Virtual Reality (VR), Augmented Reality (AR) & extended reality (ER) leading the Meta-revolution, Artificial Intelligence will play a pivotal role in the matter.
These advanced technologies will help create a virtual world that users can access easily, in a much better way.
Low-code to No-code Technology: The only thing stopping AI from exploding is the limited availability of the coders. But with the introduction of No-code tech, this issue can be resolved quickly. The core goal behind the No-code technology is to offer assistance in developing highly complex systems with ease.
We are already using readymade templates for websites & applications which require minimal to no coding. Similarly, the no-code technology powered by AI will ensure you can create complex systems by simply fusing prefabricated modules. This fusion can be customised as per the specific needs of the client. So we strongly believe No-code technology will be a top trend of 2022.
We all have heard about Automation, but 2022 will be the year of Hyper Automation. Organisations will focus more on cutting their dependence on human factors to manage their business more efficiently. This will allow them to save a lot of cost & time, resulting in better growth opportunities.
2022 will see the incredible adoption of automation across all industry verticals. Businesses will adopt iBPMS (Intelligent Business Process Management Software) & Robotic Process Automation. The sole reason behind this massive Hyper Automation will be the need to eliminate the human-error factor & ensure better productivity. So we believe Hyper Automation is another trend that will gain traction in 2022.
We already talked about AI in the above discussion. So we understand if you are wondering why we are talking about it again! But, here, we are not talking about traditional AI tech. We are talking about AI-powered Quantum Computing.
With the speed with which we are generating massive data, traditional computers will not be able to handle it. We will need a faster, energy-efficient & more accurate form of computing. That's where Quantum computing enters the scene.
With powerful Quantum Computing technology, businesses will be able to identify unforeseen challenges & solve them in a much more efficient manner. The industries like Healthcare will be the ones that will adapt Quantum Computing at the highest level in 2022.
It has always been regarded as a human trait. But not anymore! With the introduction of highly advanced & complex AI systems, machines are becoming more creative. Today, machines are creating arts, music, games & paintings.
This has opened the doors of a completely new realm of computing. Technologies like Google Brain will challenge the current limitations of the machines in creativity. This technology will ensure Machines will be leading from the forefront in terms of Creativity & art. 2022 will witness a wider acceptance of AI in creative art forms at much higher levels.
What Factors will Affect AI Adoption in 2022?
We already know how much the world has changed after the pandemic. Many businesses are adopting digitization. This is the leading factor driving AI adoption by many businesses, irrespective of their niches.
Organisations are pouting in cash on IT like never before. They have understood the importance of Digital adoption & hence are not leaving any stone unturned to leverage the impact of IT. This is another reason that is fueling the wider AI adaptation.
AI trends will be playing a vital role in fighting environmental challenges in the coming future. This is why governments are also spending a fortune on AI adoption.
Cybercrimes are rising exponentially & it is not possible to tackle them without existing manual systems. But AI can prove extremely helpful in such a situation & that is why we believe AI will enjoy quick adoption in 2022.
Conclusion:
AI & ML are the future, and there is no doubt about that. Some industry experts believe that this technology will grow almost 30% CAGR annually by 2030. This shows how powerful & disruptive these technologies are & how important they will be in 2022. That's the reason why every AI development company should know about these trends in AI (Artificial Intelligence) & ML (Machine Learning).
Frequently Asked Questions
What Is Artificial Intelligence and Machine Learning?
What is the future of AI and Machine Learning?
Is Artificial Intelligence replacing Human Intelligence?
How much do AI and ML development services cost?
Is it a good idea to integrate AI and ML into my application?
Hashtags:
#ai #ml #aimltrends #artificialintelligence #machinelearning #trends2022 #naturallanguageprocessing #nlp #cybersecurity #metverse #virtualreality #vr #hyperautomation #quantumai
Artificial Intelligence and Machine Learning Trends 2022