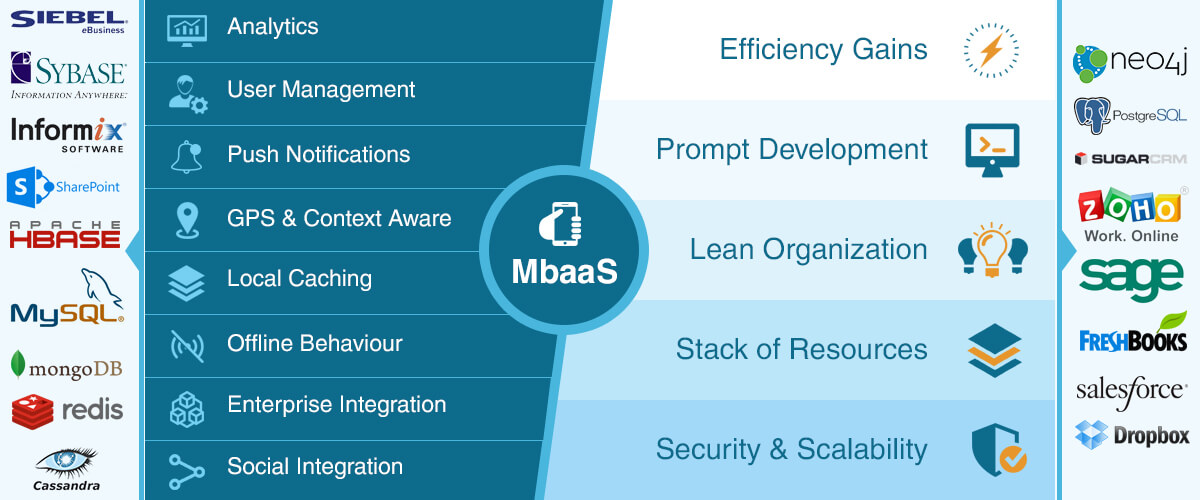 The rule of demand and supply is prevailing since the beginning of the time and its still prevalent in IOT. Mobile Applications have come of an age where features, user interface and user experience are the top most priorities on several platforms. The share of mCommerce is increasing many folds while the opportunity of aggregations and integrations of mobile applications are still exploring the best possible options.
Mobile Backend as a Service has opened up the floodgates for developers and companies to provide the much needed visceral scope to expand their services. Integrations with several APIs, Connectors and Development kits expanded the much needed bandwidth. In a simple term, Mobile Backend as a Service is a robust computing framework that straps the mobile applications to the cloud computing service. This helps the developers to focus on developing the complex architecture and hence, reduce the lead time on low priority work involved in the mobile application development projects. It is a server side technology and helps to reduce the costs.
WeblineGlobal provides web services via Modular MbaaS which can be devised as building blocks and pieces which can be molded, used, manipulated according to the needs of a developer while still maintaining the application development ecosystem. It has put to an end to the several critical challenges that developers were facing. For an instance, There are multiple services or APIs available in the market, to connect all the APIs we need multiple sdk to connect. However, at present there is no tool available to connect all those APIs in a single place. To counter this scenario; MbaaS provides the much needed facility to configure once and used across all the platform using one SDK.
With the help of Modular MbaaS, the developers can seamlessly provide the push notifications, file sharing, integration with popular social networks for an e.g. Facebook and Twitter. The fundamental pieces including data storage, access control, alerts, user management, Geo location for an accurate location based services, analytics to get the insights and many more.
To know more, contact us.