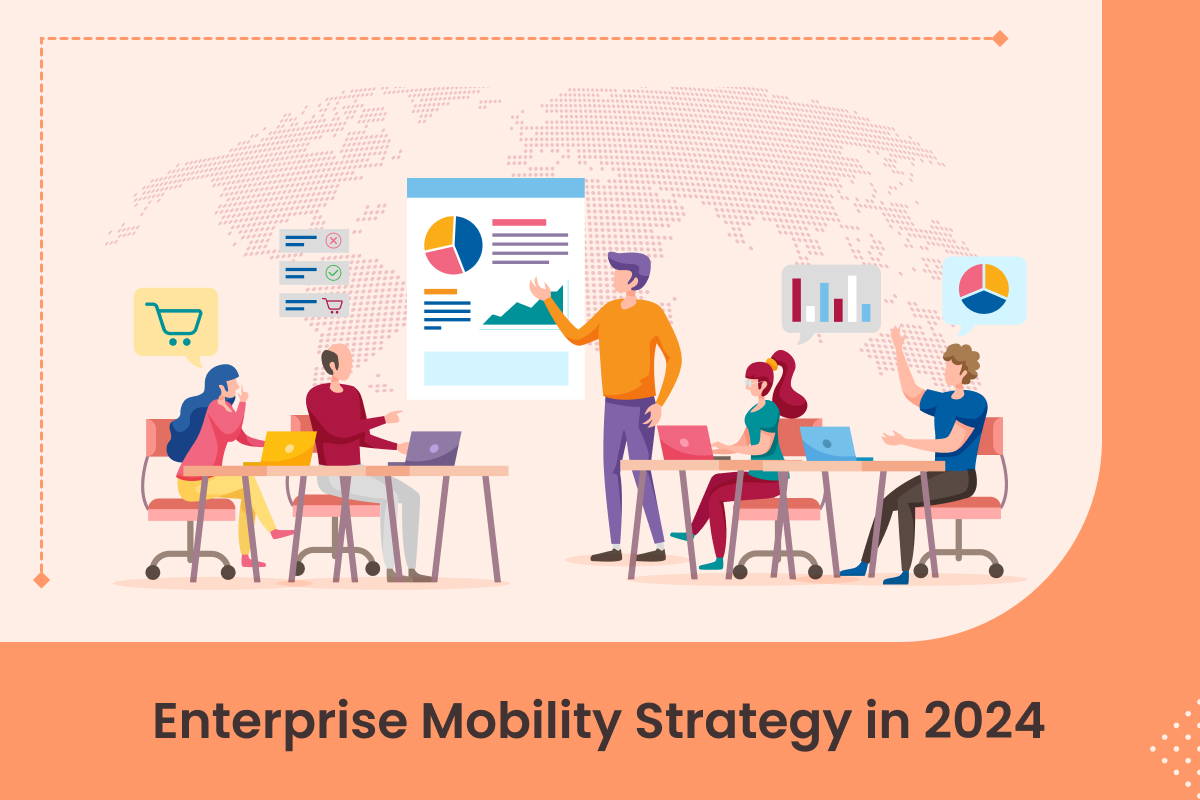 According to Allied Market Research on Enterprise Mobility Market, the global enterprise mobility market would shoot from under US $20 billion in 2019 to over US $150 billion in 2027. With a growth of CAGR of 29.3%, enterprise mobility solutions will lead the market in the future, meaning no company without enterprise software shall survive the tough competition. As more and more organizations adopt technologies, workplaces are leaving their 'stationary' state and becoming mobile.
You need an enterprise mobility strategy to craft mobility solutions for your business operations. Mobile applications, today, are smart and efficient to handle external and internal business processes.
In this short guide, we shall delve into what refinement you need for enterprise mobility strategies in 2024 to sustain the challenges and come out ahead.
Mobile workforce – the dawn of advanced technology
SHRM's report sheds light on workplace trends that show that nearly half (47%) of enterprises are planning to adopt remote working, and additionally, more than 80% have already paved their way to work from anywhere. This all requires powerful mobility solutions so that all the stakeholders, employees, and clients can access information on all devices on the go.
Setting up advanced enterprise mobility management (EMM) enables companies to streamline internal and external corporate operations and automate business processes to reduce human errors while increasing efficiency and accuracy in information storing, sharing, and utilizing for further roadmaps.
What are the core challenges of enterprise mobility in 2024 and beyond?
Enterprise mobility management in 2024 shall come with several challenges due to increased complexity in businesses, highly fluctuating market trends, and immensely volatile consumer demands.
Enterprises need to think about adequate infrastructure throughout disparate sites and ensure that they all abide by legal regulations; additionally, enterprise mobility management solutions should also provide seamless experiences to all users on different-sized and shaped devices.
Here are a few challenges to implement enterprise mobility:
Scalability
Mobile applications and enterprise software tools such as ERP and CRM carry complex data that need to be stored, arranged, and fetched systematically. Fully functional enterprise mobility management solutions require scalability to cater to the swiftly changing needs of users.
Third-party integration
One can enhance enterprise mobility services by collaborating with other third-party APIs or software tool integrations. Integration with other enterprise systems would make the solution omnipotent and well-connected with other workforces. Even further, mobility solutions need to sync with the present systems and become an integral part of the overall automated information technology ecosystem. Thus, for enterprise mobility strategy, synchronization through adaptability is the key.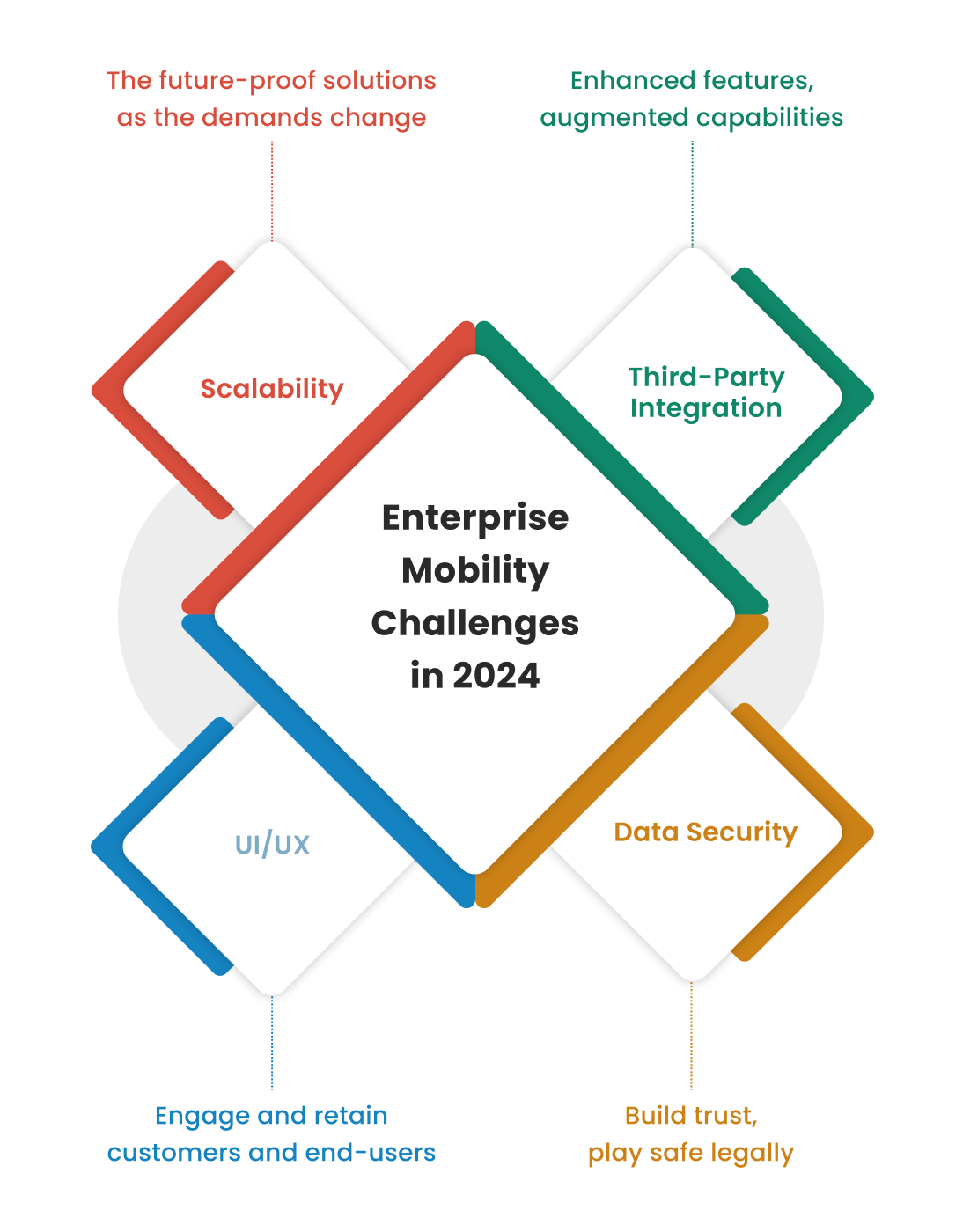 Data security
Data security has been a top priority for any enterprise. As most companies today store and use essential personal information to make strategic decisions, any breach would result in the company's reputation being at stake; hence, security should be one of the major concerns in building enterprise mobility strategy. 
UI/UX
Enterprise mobility strategies include thinking of UI/UX for the ultimate use of any software solutions. Millions of dollars are put by multinational companies into UX research for which user interface (UI) is a core component. End users such as stakeholders, clients/customers, and employees are less likely to adopt the change if there are user experience issues in enterprise mobility solutions. Tools with intuitive and attractive UI are easily embraced by users.
How to overcome enterprise mobility challenges?
Enterprise mobility strategies in 2024 should include a multi-dimensional approach to overcome the challenges and attain the company's vision and mission. Here are the top three approaches that you can implement in building enterprise mobility management software. You can find enterprise mobility solution providers and discuss the same with their business and technology consultants.  
Enterprise secure cloud solutions
Data security should be your top concern and when you discuss enterprise mobility strategies with your tech partner, you need to ensure that they adapt dynamic security solutions by building robust infrastructure and multi-layered security policies and protocols. You may ask for a specific service or product to enhance the security. For instance, Microsoft enterprise mobility cloud solutions are known for their data security and safety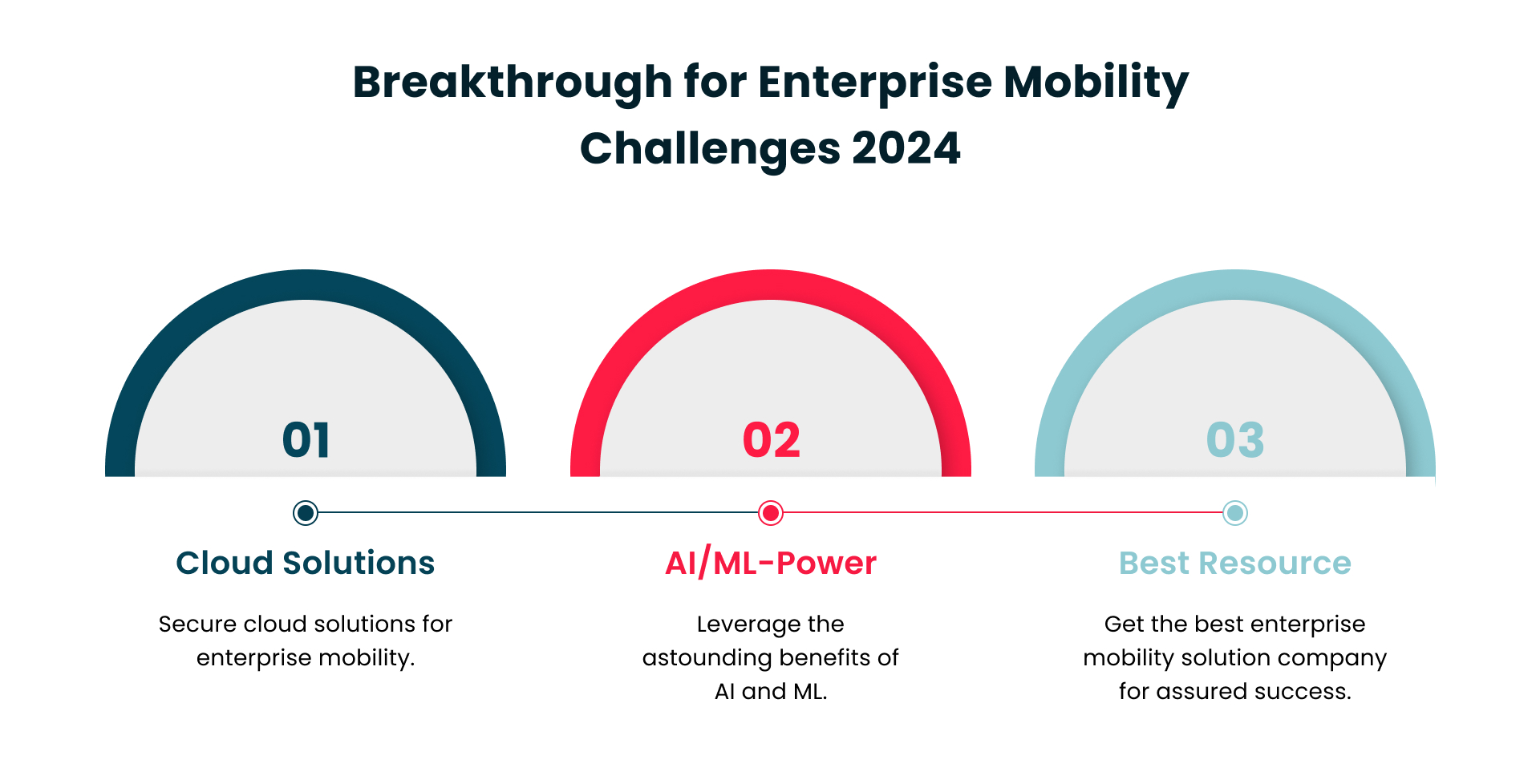 Extra mileage with AI and ML
Among the latest technological advancements, Machine Learning and Artificial Intelligence have been at the forefront. With the size of the global AI market growing in 2023, it will touch the mark of US $208 billion.  
Enterprise mobility strategies in 2024 should not spare considering generative AI in smartphones for sentiment analysis, automated reasoning, data mining and predictive analytics, anomaly detection, and chatbots. AI and ML solutions shall pave the way to enhance enterprise mobility solutions and will help companies deliver performance par excellence.  
Choosing the best enterprise mobility solution provider
A simple search 'mobility solutions near me' would get you dozens of SERPs (Search Engine Result Pages) with relevant results. More results will only confuse you in choosing the best offshore software agency. You may consider several factors such as a company's experience in developing enterprise-level software tools, portfolio, and online reputation. A mobility solutions center with extensive work in crafting customized mobile and web app development could be the best bet for your company.  
Nevertheless, while building strategies for enterprise mobility solutions, you and your tech partner should also consider several other challenges of mobility solutions in 2024: restructuring IT operations, taking enough security and data measures, recruiting AI-skilled teams, and finally adapting to the swiftly changing technologies.
Ready to embrace enterprise mobility solutions in 2024?
Enterprise mobility solutions streamline workforce, internal and external business operations, and complex information to build a strategic roadmap for the company's success.
Mobile device management and tactically implemented enterprise mobility strategies will help an organization stay competitive and lead the market with an extra edge. WeblineIndia's cognitive approach and affordable hiring models to build enterprise mobile solution strategies make you a frontrunner in the market as you can be assured of the best user experience through innovative business IT solutions. 
Enterprise Mobility Strategy: INFOGRAPHIC