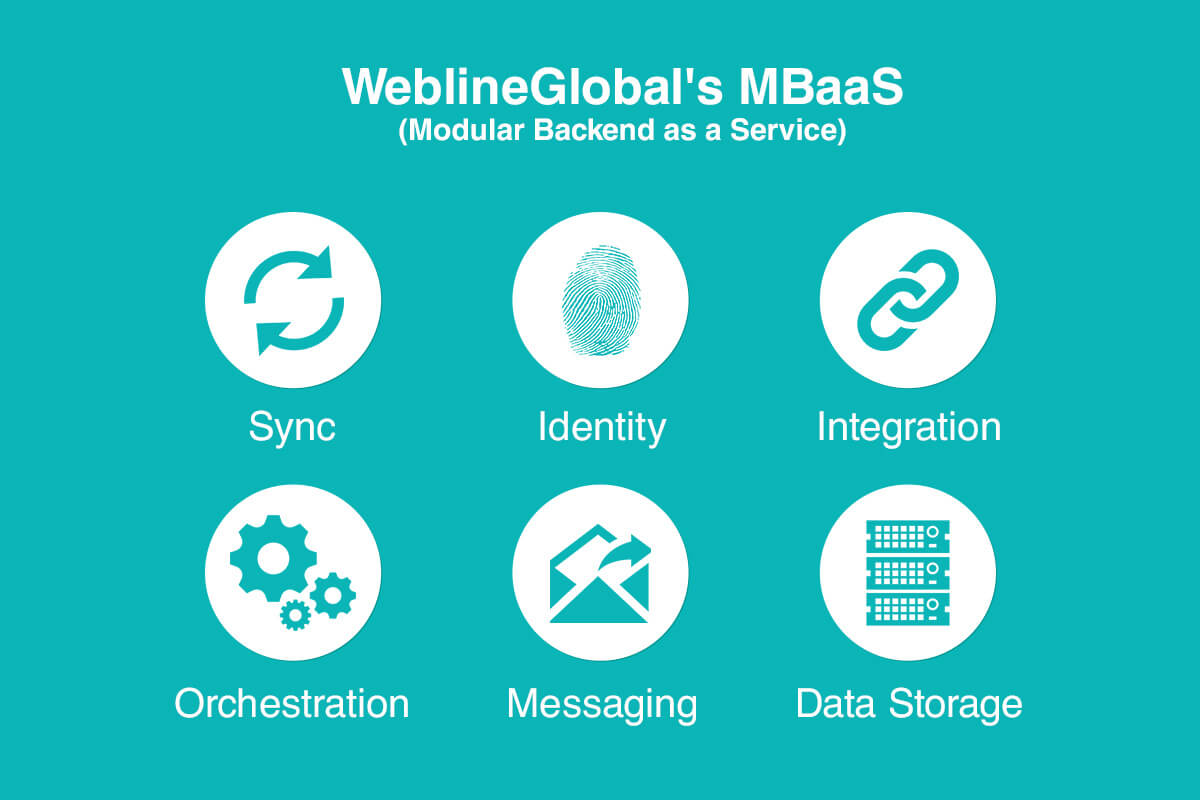 Enterprise modular backend as a service (mBaaS) is becoming relevant category in the enterprise molecular mobile app ecosystem. WeblineGlobal's MbaaS could be the key to the future of mobile enterprise as enterprise application developers look for time and cost effective solutions to support Mobile First and BYOD initiatives. At WeblineGlobal, we provide backend as a service for the mobile enterprise to startups to satisfy their needs in open source integration, medium and large enterprises in complex back-end systems.
Backend as a Service, commonly called BaaS (an emerging trend in mobile app development) is known as mobile Backend as a Service. It is a fairly new product category that offers mobile app developers building-block services, such as offline data synchronization, identity management, enterprise integration, push-notification support, mobile ads, mobile payments, user management, data storage, security, context-aware, analytics, file handling and integration with social networking services. It is a natural extension of existing cloud service models that is comprised of enterprises that make it easier for developers to setup, use and operate a cloud backend for mobile, tablet and web applications. With the creation of MBaaS in the market, the world has now changed for the better for the developers.
"MBaaS platforms are also preferred over Mobile Enterprise Application Platforms (MEAPs)."
Research director(Gartner Inc), Gordon Van Huizen said that "BaaS is a compelling value proposition". "It may prove to be an organization's first foray into the cloud."
"Red Hat acquired MBaaS provider FeedHenry for $83 million and standalone MBaaS provider Kinvey teamed with VMware last year."
The global BaaS market is estimated to grow from $216.5 million in 2012 to $7.7 billion in 2017 from a report published by MarketsandMarkets.
As per research, developers use only 20% time to build and design an app. On the top it, they spend 80% time on backend functionality and integration.
What are the benefits of WeblineGlobal's MbaaS System?
Lower Time & Efforts – Backend integration and infrastructure layers are pre-built so developer can easily build engaging mobile apps effectively.
Improved Application Performance – WeblineGlobal's MbaaS provides backend codes that are used for testing and optimization to improve application performance.
Cost Effective – Owing to reduced time and use of resources in development due to less code to write (and debug), it is affordable. Development cost will be spread over the users.
Increased Customers Satisfaction – Affordable, Improved app performance, Efficiency Gains, Lean Organization, Prompt Development, Better quality
Secured and Scalable infrastructure – WeblineGlobal's MbaaS provides a packaged infrastructure that deals with scalability, security, performance and other operational headaches.
Ready to go features: WeblineGlobal's MbaaS platforms provide many ready to go features such as user management and roles and permissions for managing your application user's data and devices. These features expedite market deployment time and permits developers to invest more into the front end development of their mobile app.
How WeblineGlobal Can Help You….
WeblineGlobal provides a secured and scalable environment for your cloud powered mobile apps, it also teaches you to think about how you bill your customers differently.
It's easy to use, simple to get started and represents the best BaaS value proposition you will find in the market today.
At WeblineGlobal, our developers have experience to create engaging apps and games for customers quickly and efficiently. If you have a new app in mind for the web or for mobile devices, please feel free to contact the experts the experts at WeblineGlobal to learn more about how we can get you up and running on any platform today.