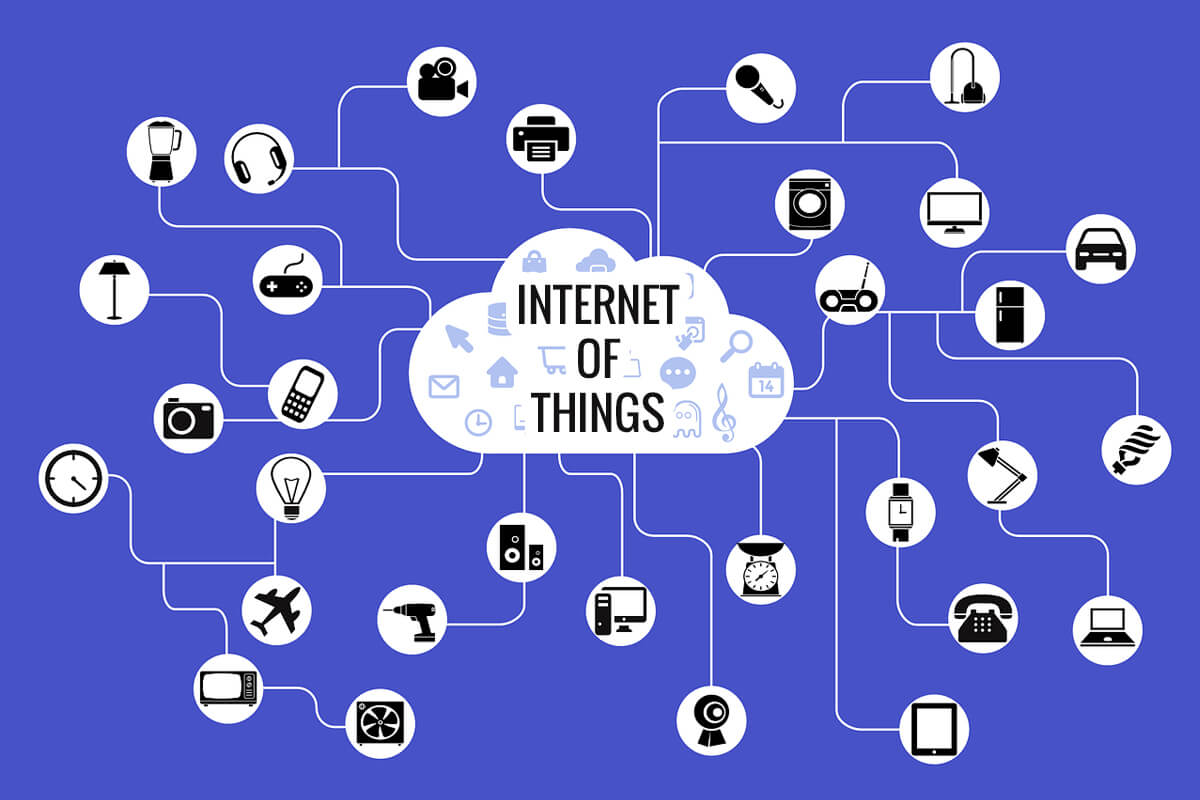 Basics about IoT
The Internet of Things (IoT) is a layout in which objects, animals or people are given unique identifiers called an IP address and the ability to transfer data over a network without needing human-to-human or human-to-computer interaction. IoT has emerged from the union of wireless technologies, micro-electromechanical systems (MEMS) and the Internet. Generally, the IoT is mostly related to machine-to-machine (M2M) communication, enabled by secure network connectivity and cloud infrastructure. The term IoT selects RFID as the method of communication, although it also may include QR codes. They also use WiFi or 3G/4G, and software to exchange information with each other.
The Internet of Things (IoT) is a vision to make the physical world one big information system.
Benefits of IoT
Operational Productivity:
IoT connects people and things at a mind-boggling level. IoT allows you to vigorously generate and communicate intelligence data, and improve business models greatly, maintaining competitive advantage. We can greatly reduce waste, loss and cost. We know when things need replacing, repairing or recalling. Both consumers and producers benefit from increased automation, better information gathering and analysis, and intuitive user interface and design. It offers organizations the opportunity to achieve operational excellence and enable innovation. IoT provides improved customer and citizen experiences, enhancing safety and reducing risk. The data gathered can deliver real time business intelligence systems aiding quick and informed decision-making.
By 2025, organizations that largely use IoT technologies will be up to 10% more profitable. IoT helps businesses to market products more quickly and conform to regulatory requirements. IoT provides greater personalized and more integrated service by instant data feedback. IoT facilitates digital businesses, enabling remote monitoring, asset management, and easy deployment. Companies are using IoT to grow revenue and increase profits. IoT technology can reduce average repair costs by 12%, maintenance by 30% and downtime by as much as 70%. It can also save big on electricity costs through smart energy management systems.
Technological application in IoT:
Growth in analytics and a highly robust, secure network infrastructure.
The emergence of the new IPv6 protocol orders of magnitude of more computers and things.
The declining cost of sensors, connectivity, and data processing power improves ROI equations.
Investor and consumer confidence has grown for investment in new technologies.
Sophistication of Applications and an integrated business analytics platform.
Networking: Everything from wired LAN to cellular and short-range radio will play a role.
Personal area networks (PANs) and wearable devices will become commonplace.
WAN and cloud platforms to share, host, and process data, thus capacity, scalability, and resilience will be critical factors in technology decisions.
Cloud Computing
Device Management: Providers of network-certified chipsets and modules.
Metrics embedded into the data stream
Machine to machine automation with wireless sensor networks (WSN) is being deployed.
Servitization:
IoT technologies are utilized for predictive maintenance. Increased visibility enables manual monitoring with simple threshold-based exception alerting. Advanced analytics techniques predict future what-if scenarios and examine complex questions.
Market Dynamics:
The industrial Internet could add $10-15 trillion to global GDP, essentially doubling the US economy.
IoT Growth Today:
Connected devices outstrip the world's population by 1.5 to 1.
It is already a trillion dollar industry with billions of dollars of capital investment gushing into it.
There are already more than a billion connected devices and machines in use today.
The number of installed machine-to-machine (M2M) connections continues to grow. In 2014, we saw a 45% year-over-year revenue growth in our IoT business, with 4GLTE activations growing by 135%.
Seventy-five percent of global business leaders are examining the economic opportunities of IoT.
The UK government recently approved 45 million pounds (US$76.26 million) in research funding for Internet of Things technologies.
Already, billions of information events are generated every second, ready to be processed, analyzed and shared between devices and with people, to improve lives.
In 2015, more than $1.7 trillion will be spent on the IoT industry, up 14% from 2014.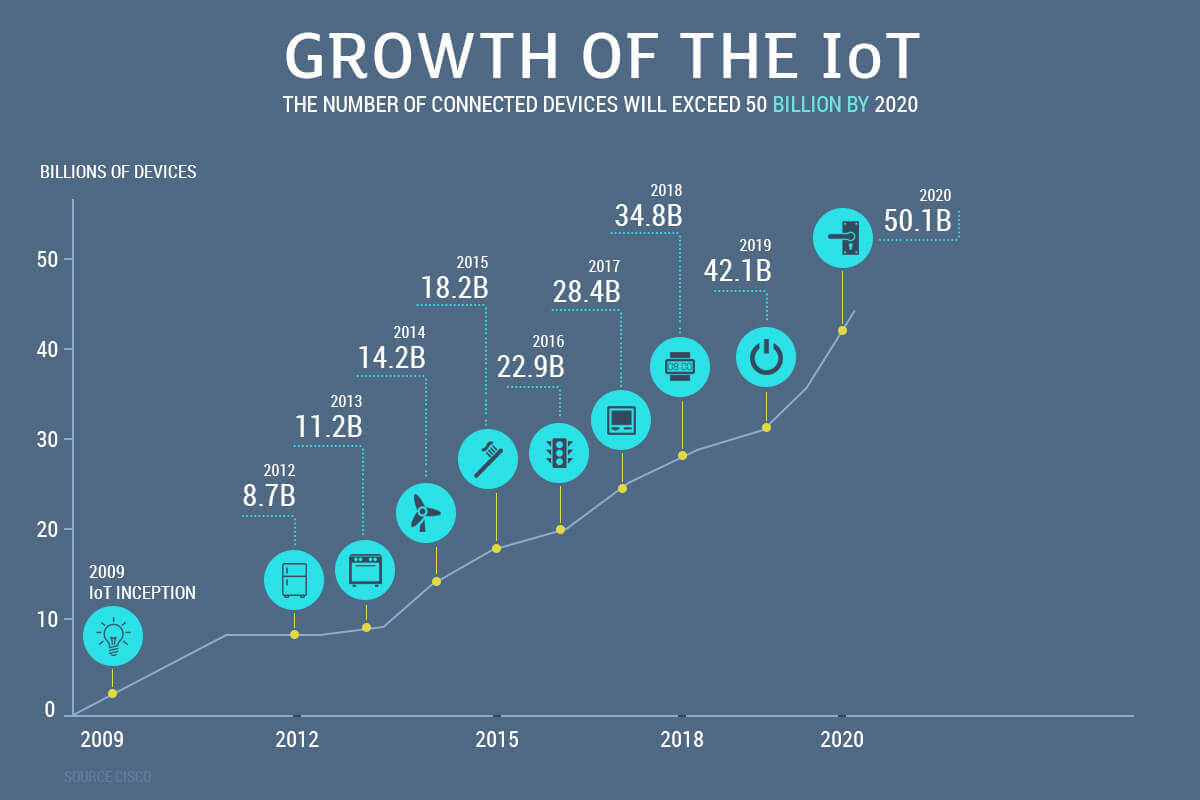 Upcoming Trends in IoT:
The remote patient monitoring market doubled from 2007 to 2011 and is projected to double again by 2016.
Organizations will introduce more than 13 million health and fitness tracking devices into the workplace by 2018.
50 billion devices will be connected to the Internet by 2020.
IoT market is expected strong growth, rising to 5.4 billion connections across the globe by 2020, counting cellular, fixed line, satellite, and short-range wireless connections, up from 1.2 billion devices today.
The total economic value-add from IoT across industries will reach $1.9 trillion worldwide in 2020.
The utility smart grid transformation is expected to almost double the customer information system market, from $2.5 billion in 2013 to $5.5 billion in 2020.
Cities will spend $41 trillion in the next 20 years on infrastructure upgrades for IoT.
By the end of last year, there were 3.8 billion connected things out there—smart cars, smoke detectors, door locks, industrial robots, streetlights, heart monitors, trains, wind turbines, even tennis racquets and toasters. By 2020, there will be 25 billion of these smart devices, transmitting tiny amounts of data to us, to the cloud and to each other. There will be 50 billion devices online within five years, with a total market worth $19 trillion (all currency in U.S. dollars).
By 2020, there will be 250 million connected cars on the world's roads, with many of them capable of driving themselves.
Players of IoT:
Atmel, Freescale, GE, PTC / ThingWorx, Texas Instruments, Qualcomm
Why WeblineGlobal?:
WeblineGlobal can help you combine unrelated networks, scale to meet increasing traffic demands, apply advanced data analytics, and produce intelligent applications to increase productivity without sacrificing security. Selecting the right providers, partners, and technologies is imperative to achieving reliability, performance, coverage, and interoperability.
WeblineGlobal's experience and expertise can help to reduce the complexity involved in developing an IoT solution, reducing time to market.
[Sources: Cisco.com, ABI Research, IDC, Gartner, Verizon, SAP, Microsoft, Navigant Research, GE, The Economist, Intel, SAS, postscapes.com]