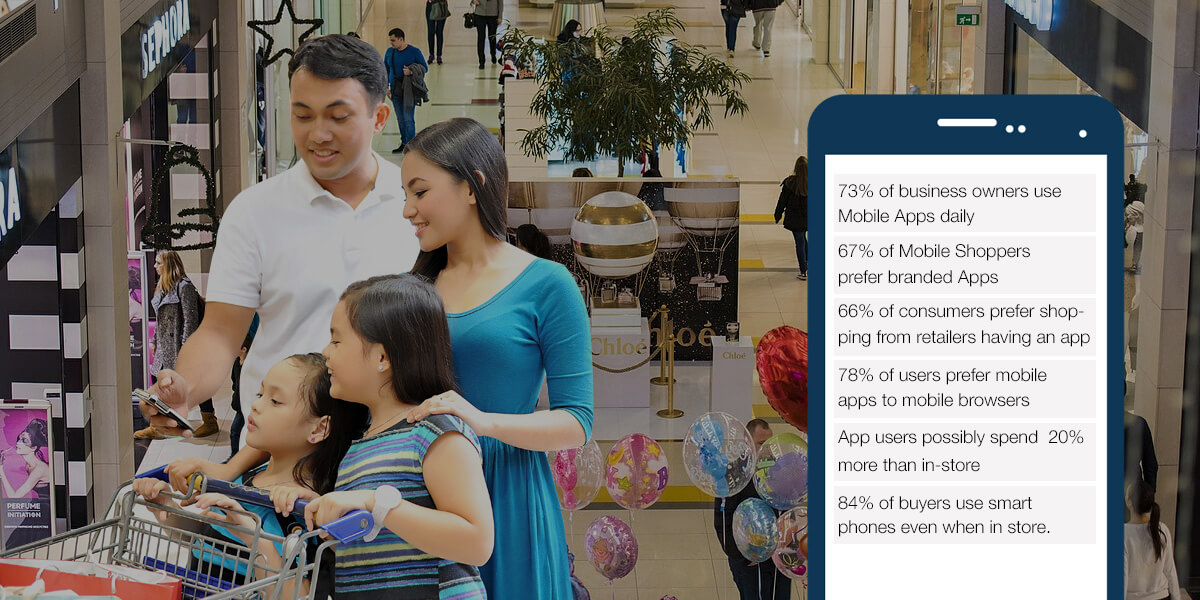 It's a $40 billion question with 86% of users shopping via Apps installed on their smartphones (source: eMarketer).
Why Retail needs to Go Mobile?
Store-exclusive apps are more engaging.
Social Media Integration (SMI) – Facebook, Twitter, LinkedIn, YouTube, etc.
Mobile Commerce (M-Commerce) – Online Food-Ordering, Shopping Cart.
Mobile app-based promotions via mobile ads, mobile banners, email & SMS integration.
Order sizes in apps are 20% greater quantity-wise.
Push notification alert can lift traffic up 150% and increase conversion by 20% to 50%.
Mobile App provides product specifications, store location, price, and recommendations, making it a virtually complete tool. You can also place an order and pay for it using your mobile device.
Retail App Statistics:
January 2015: User preference for mobile apps is 89% using social network, email and news apps (source: comScore).
64% of total Mobile Usage time by a user is on Apps.
Customers use mobile Apps 6x more than websites.
79% of smart-phone users use their phones to make purchasing decisions
50% of those 79% users results into a transaction or purchase in less than 60 minutes
85% of business owners have a smart-phone with 73% of them using Mobile Apps daily.
67% of Mobile Shoppers use their Favorite brands Apps according to mobile analytics vendor Mobidia66% of consumers are inclines to shop from retailers having an app. (source: fetch)
78% of users prefer mobile apps over mobile browsers. (source: comScore)
App users possibly spend 20% more time on app than in-store annually
84% of users continue to use smartphones even when in store.
The comScore report, comparing December 2014 with December 2013, reveals:

The percentage of Internet users who only go online via mobile devices has been highest: 12%. (source: internetretailer)
52% of all digital time—web, apps, desktop, tablet, smartphone, wearable—is spent within a mobile app.
Total U.S. retail digital commerce grew 14% in 2014 & Mobile commerce jumped 28%.
As retailers continue to remove "resistance" for mobile checkout, mobile sales will accelerate. (source: internetretailer)
In 2014, users spent 86% of their time in apps (source: Flurry analytics).
Seismic Retail App Trends:
Loyalty apps: In 2015, more retailers will offer mobile loyalty programs.
Loyalty-wise, the points-for-purchases model will no longer appeal customers. Instead, customized perks will play a role for loyalty program success in 2015.
Convenient services such as mobile ordering will be widespread.
Mobile payment solutions: Phone-scanning will slowly replace card-swiping or cash-handling in 2015.
Mobile Payment Trends for 2015: Players are Apple Pay (41%), Google Wallet (300,000 US merchants), Paypal ($46 billion USD in 2014), Softcard (200,000 merchants), WeChat (468 million users in 2014).
Gen Y market segment (Millennials) will be a major influence in retail. Merchants wanting to target millennials (largest group of smartphone owners) will need to invest in mobile with speed as an essential factor.
Social networks will serve as shopping platforms. In 2015, merchants will do "selling" on social sites.
Retailers will continue to adopt and test technology: POS technology, Wearables, Beacons, Augmented Reality, 3D printing, in-store app marketing.
The number of SMBs using big data and analytics will grow in 2015 thus; risk mitigation and data security will be vital.
Omnichannel strategies will become a necessity for stores. Retailers will adopt multiple channels to serve customers.
Brands will intensify Corporate Social Responsibility (CSR).
More ecommerce sites will open offline shops.
Localization in product mix and store formats will become commonplace.
Conclusion:
It's important to read Buyer's mind in Retail. WeblineGlobal's MMADP (Molecular Mobile Application Development Platform) Retail Platform helps in building apps with rich UX, provide behavioral analytics using different 3rd party tool and help Retailers in optimizing their APPs for monetization.
For a demo, click here