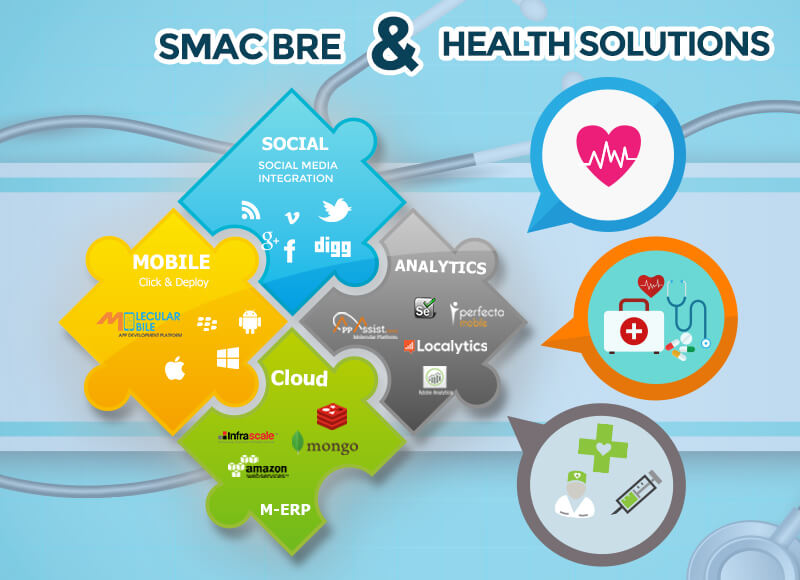 SMAC BRE stands for a set of rules consisting of Social, Mobile, Analytics & Cloud. The Business Rule Engine has compartmentalized the way the enterprise business is conducted. In the Pre-digital era, the information related to the consumers and products, consumption patterns, statistics, data analytics were scattered or available scarcely. Companies kept unleashing products and services into the market before undergoing a scrutiny of identification of need or evaluating the products and services already in the market, thus resulting into a premature losses or shut down in a worst case scenario.
SMAC BRE deals with a pragmatic process where the companies identify the key performance areas where their products stand out and make a difference in the market. Where the consumer is empowered to use the device with utmost ease and at the same time, the usage becomes productive. With multiple devices at their disposal, the users are looking for the anytime, anywhere type of convenience no matter which device they are using. It brings a whole new paradigm shift where the business adopt a structured process to enhance the ease of access to the users.
It follows the process of Identification of need, Seek information, Evaluation, Purchase, Consumption and finally, the feedback.
For an instance, in the category of Tele Health Solutions, WeblineGlobal is making a significant impact. Here is how: The user can take the help of a specific device to measure the various health reports. The device in return will push this data via network signal to a cloud where the doctor can access this data through a web portal. After the test or a series of tests, the medical team or the patient care team will use the analytics derived from the report and inform the patient about the infractions or any anomalies. This process is not just a user friendly but it is using the technology in an efficient manner so that the user does not have to make multiple trips for the necessary medical check up. In return, the user has to fill in online forms and necessary paperwork needed if the medical insurance is applicable.
By using the WeblineGlobal's SMAC Business Rule Engine, the tele health solution is making a strong impact in the market.
To know more, contact us.