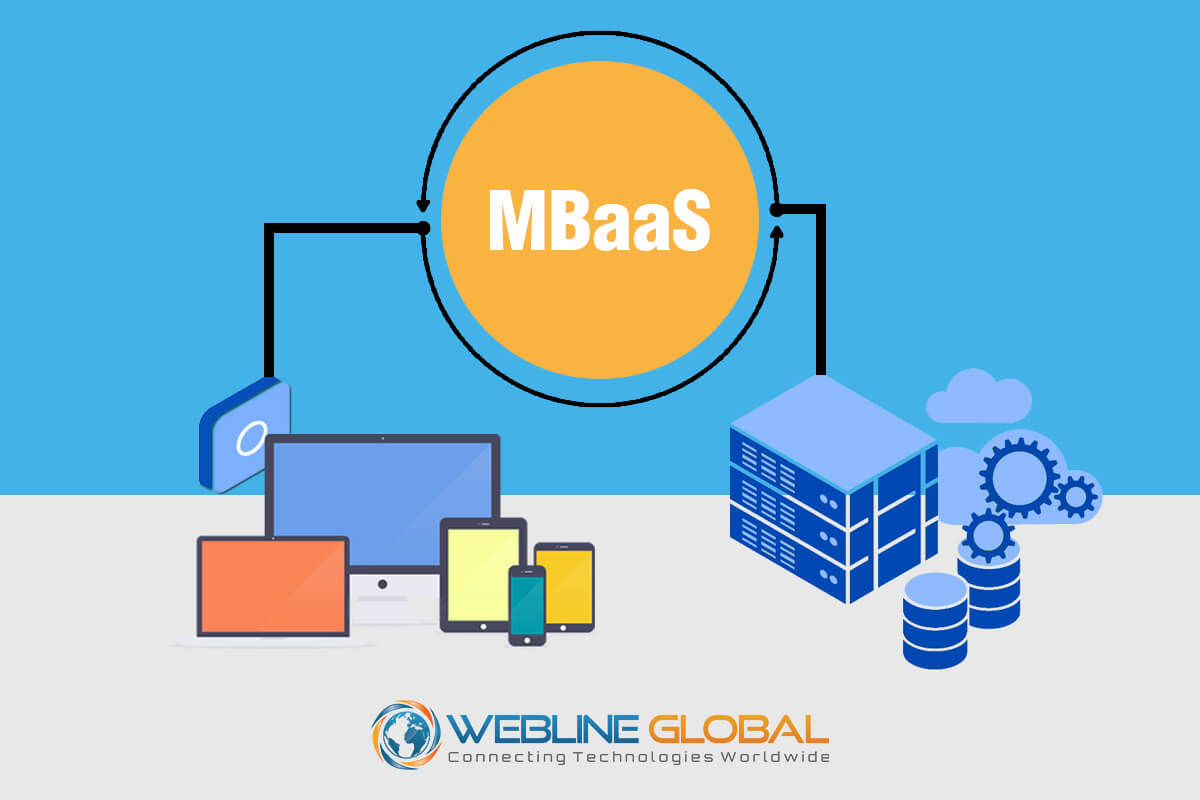 Various services such as app testing to back end management, aiming to help app developers have flourished due to the revolutionary growth in the Mobile app market. The productiveness of these services is rated from a broader view. In fact, services like cloud backend management as a service do add value to developers.
What is MBaaS?
It is a specific solution providing pre-built APIs, custom SDKs, cloud hosted components for developing the mobile app backend. It's high scalability and innovation allows storing and linking the applications to a backend cloud infrastructure with feature rich in cloud-based storage for mobile data, data synchronization, push-notification support, user/security management and file-handling.
MBaaS platforms are also distinct from mobile enterprise application platforms (MEAPs) like Sybase's Unified Platform and IBM Worklight, which tend to be traditional multi-layer software stacks that include backend components, middleware and client components instead of a cloud-based service.
Future Predictions:
By 2016, 40 percent of mobile application development projects will affect other enterprises in coping up with the control over cloud based back-end systems. This in turn may reduce their development speed if they don't learn to adopt cloud management.
The market of MBaaS will expand from

$216.5

million in

2012

to

$7.7

billion in

2017

. (Source: MarketsandMarkets)
Benefits of MBaaS:
A win-win situation propagates, which eliminates involved risks relating to time usage for developing backend as MBaaS is incredibly easy set up and also the backend can scale up as required in the cloud.
Suitable for all ranging from big companies to start ups and solo developers.
Why is MBaaS Good for Developers?
More focus on API and front end: Developers can consume more resources and time for API and front end experience.
Faster App Deployment: Usually, half or more of the app development cycle comprised of setting up a backend, taking months to build and needing a team of specialized developers. By taking advantage of BaaS, developers can deliver their apps to market 50% faster in many cases.
API usage: From the developer's view, BaaS eliminates tedious part of building mobile and web apps. Developers already accustomed to using other APIs, it becomes easy to use BaaS as it is just another API that your app interacts with.
No server side nonsense: Front-end developers don't have to get stuck in all kinds of server side nonsense.
Features of WeblineGlobal MBaaS:
Open Standards-based Development: Developers have freedom to choose client development tools and frameworks (including native iOS, Android, JavaScript, and PhoneGap). WeblineGlobal's open enterprise-grade cloud services include identity management, push messaging, offline data synchronization, orchestration and storage. WeblineGlobal MBaaS aids line of business integration with systems such as SAP and Salesforce.com, while a web-based portal provides access to configure and manage all the services the app needs.
Faster Output: WeblineGlobal's cloud-ready, packaged mobile business apps provide an enriching user experience, offer built-in offline sync support, and enable organizations to mobilize existing enterprise back-end processes.
Multi-Channel App Experiences: WeblineGlobal's MBaaS enable cloud-based collaboration capabilities to define, prototype, design and develop multi-channel app experiences.
Why You Should Use WeblineGlobal MBaaS:
The WeblineGlobal MBaaS platform provides a feature-rich mobile backend that can help develop and deploy enterprise mobile apps at affordable rates in less time.
The WeblineGlobal MBaaS provides an open set of integrated, enterprise-grade cloud services that help companies mobilize business processes including customer relationship management, human resources, field services and asset management.
At WeblineGlobal, we offer mobile backend as a service for the enterprise to startups to meet their needs in open source integration, medium and large enterprises in complex back-end systems.
Few of the many Enterprise back-end systems WeblineGlobal Solutions has experience in are Siebel, MongoDB, Zoho, Dropbox, MySQL, SugarCRM, etc.
Our talented team has the ability to support a complete bouquet of functionalities.

You can, hence, dictate permissions, pick social authentications, set-up email & push notifications, execute cloud code, etc.
WeblineGlobal MBaaS is available for a free trial. To try it, click here.