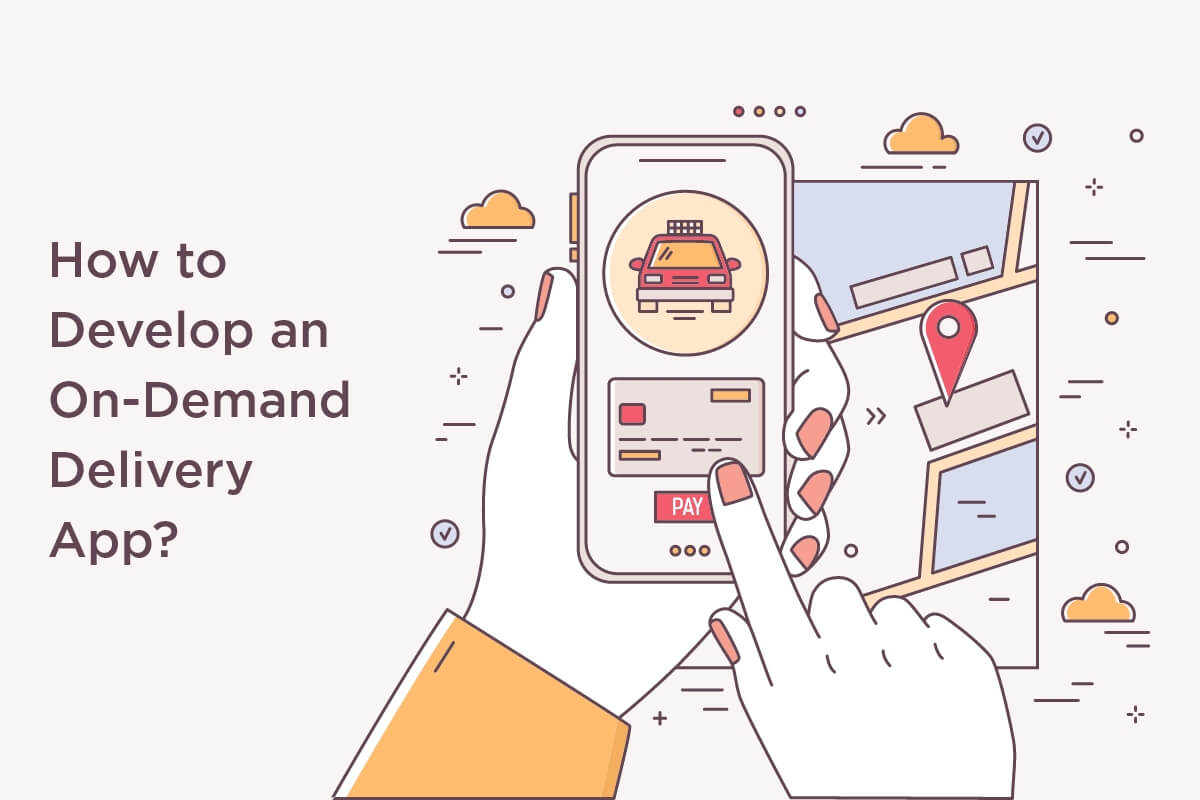 On-demand delivery apps are causing havoc in one business after another. Uber's taxi-hailing app is now used everywhere, from grocery stores to hospitals. Because of the rise of on-demand app development, every type of business, and company regardless of the product or service offered, is trying to establish an app.
Call it FOMO, but the demand for on-demand software developers is at an all-time high. Before we get into how to design an app, let's take a look at what types of apps are driving the on-demand industry. 
Types of On-Demand Applications
In this type of on-demand app, a person requests a service or product from another person who is utilising the same platform given in the form of an app published by the firm. 
Enterprise to Person (E2P)
Enterprises frequently develop their own on-demand apps to deliver their products or provide services. To seek services or order products, the user must first download the app. 
Enterprise to Enterprise (E2E)
To conduct its business successfully, an enterprise relies on a number of smaller firms and SMBs. They could be vendors, service providers or a maintenance company, among other things. Enterprise-to-enterprise apps keep companies in sync.
To understand this more, you may reach out to any venture providing mobile app development services.
Which Sectors to Choose?
Food and Beverage Delivery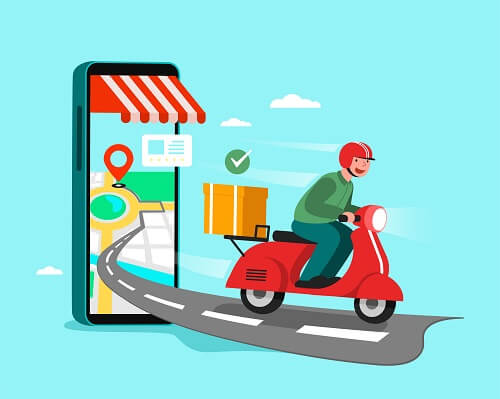 On-Demand Apps for Food allows us to have our favourite meal delivered to our door in only a few clicks. This industry is thriving resulting in on-demand delivery app development.
Logistics and Transportation
Transportation and logistics are another popular industry for on-demand apps. Although Uber is the worldwide leader, there are many applications that provide cheaper services in various regions, indicating that newcomers might capitalise on the tremendous potential in this market.
You may hire a professional to accomplish your household chores using apps like Task Rabbit and Handy. From fixing leaks to repairing TVs, all you have to do is download the app and hire the appropriate person, who will arrive at your place within minutes. 
Also read our post on Technology Stack for Mobile App
Why Would You Develop a Delivery App?
When creating an on-demand service app, it is critical to understand the advantages of entering the market before devoting your time and money. To put it another way, why would you need to create a meal delivery app?
The Market has Enormous Potential
Even today, the statistics from the delivery sector are amazing in terms of the number of customers and revenue generated, but this is not the end. Experts expect that the global market profit would increase to $154 billion by 2023. If there was ever a moment to create your own meal delivery app, it is now.
Determine your target audience and maintain contact with them
An on-demand delivery app is an excellent method to reach out to your target audience, connect with them and solicit feedback. A cornerstone of running a successful business is being able to reach as many potential clients as possible.
For both customers and business owners. The benefit to consumers is evident – more options and improved service quality. The ability to respond to market needs as rapidly as possible through engagement with clients, increasing the zone of influence, and establishing dominance generate profit for the owners.
6 Steps for Creating an On-Demand Delivery App
Step 1. Define your Market Niche and Position
If you want your business idea to flourish, you must first determine whether it meets unmet client demands. 
Step 2. Choose Your Business Model and Technology Stack
The most crucial concern is how to make money, therefore don't forget to thoroughly consider your prospective project's business plan. Define your monetisation model, marketing strategy, and target audience. Make a list of the features and integrations that are necessary based on this.
Step 3. Assemble a Group
Although on-demand delivery app development has been around for a while, it is preferable to work with someone that knows all the ins and outs. If you don't have these experts on your team, it's good to recruit professional developers or contact an on-demand app development company and leverage their experience.
Read our guide on Hire App Developers
Step 4. Create your MVP
If you actually want to differentiate your delivery application, you must extract the must-have features from the rest and start working on your MVP.
Step 5. Rework and Refine
Gather comments acquired with the assistance of your MVP. Determine which features are most frequently used and which are not.
Step 6. Post-Release Assistance
The work does not cease with the release of the application. In fact, the majority of the labour begins after the product is released because you will need to give 24/7 customer support and address faults.
How to Grow and Retain Your User Base?
Identifying the Target Audience
You need to identify your target audience first. For instance, in meal delivery apps, restaurants and people are both providers and receivers. Make sure your software is simple to use and that you don't need to train any users to boost adoption. When targeting people rather than businesses, you must identify their personalities and design the app's UI/UX accordingly.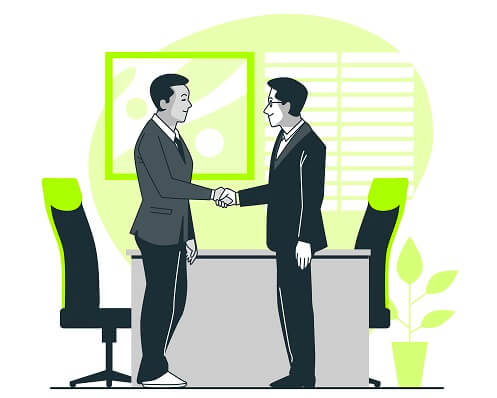 In the case of a B2B app, you must build a partnership with both the providers, the receivers, and with the providers only in the case of a P2P app. You must market your software to end customers in order for them to install it. 
Once you've identified your target group, it's much easier to develop a solid strategy around them. At this point, an on-demand app development company can simply sketch its ideas on paper as a prototype. This prototype will provide you with a clear picture of how you want to construct an app.
Make a decision on the major players
Once you've created a rough blueprint for your on-demand delivery app development, the company needs to identify the primary parties involved. These participants are often the consumer, the delivery executive, the service, the provider, and the customer support.
An app publisher must connect providers to the app platform and establish their level of involvement. Many publishers prefer independent partners since they are permitted to do business outside the scope of the company. Publishers also hire suppliers on a payroll. A few also employ an agency for on-demand app development services.
Push Notifications That Thrill Rather Than Irritate
Push notifications are an amazing way to stay at the top of your existing users' minds. However, overuse or misuse of it may cost you a large number of users. Ensure that your push notifications excite rather than irritate your clients. It is vital that your push notifications are an intrinsic component of your software and not just a marketing gimmick.
Set up Loyalty Programs, Incentives, and Awards to Entice Additional Users
Never pass up a chance to make your user feel unique. If you present a few offerings, it will not cost you a fortune. You can participate in the refer-a-friend program or provide free service for the first five orders. Every audience is unique and will express interest in diverse offers. Before introducing any offers, conduct an extensive investigation.
Providing individualised services is a vital strategy for retaining consumers. This can be accomplished by first storing the data and then analysing it. Personalisation is a very efficient strategy for making your customers feel special and for recommending services based on their previous orders.
Take regular consumer feedback to improve your offerings. You can also utilise NPS (Net Promoter Scores), which are questions used to collect feedback.
Customer service is another crucial aspect of on-demand delivery apps. It is beneficial since it solves the challenges that your end consumers are experiencing. It's also handy if your user can't reach any of your delivery executives. In such instances, your users can always contact customer service and have their questions answered.
Estimated Cost of Developing an On-Demand App
The cost of an On-Demand Application is determined by its complexity and the number of features added. The cost of app development will vary substantially depending on the number of hours necessary. The hourly cost could range between $60 and $200.
Building on-demand applications necessitate a unique set of skills and experience. You must exercise caution while selecting an on-demand app development company. Make sure you employ a team that has the necessary abilities and experience while still being cost-effective.
Conclusion
On-Demand service Apps are the way of the future; most services will soon have their own on-demand app. If you want to create an on-demand app, there isn't a better moment than now.
Social Hashtags:
#ondemandapp #ondemanddeliveryapp #ondemandappdevelopment #ondemandappdevelopmentcompany #ondemandserviceapp #mobileappdevelopmentservices #mobileappdevelopment #mobileappdevelopmentcompany
Frequently Asked Questions
What is an on-demand delivery app?
What is an on-demand delivery service?
How much does it cost to develop an On-Demand delivery app?
How much time will it take to build the on-demand delivery app?
Guide to Choose The Right Technology Stack for Mobile App Development: INFOGRAPHIC