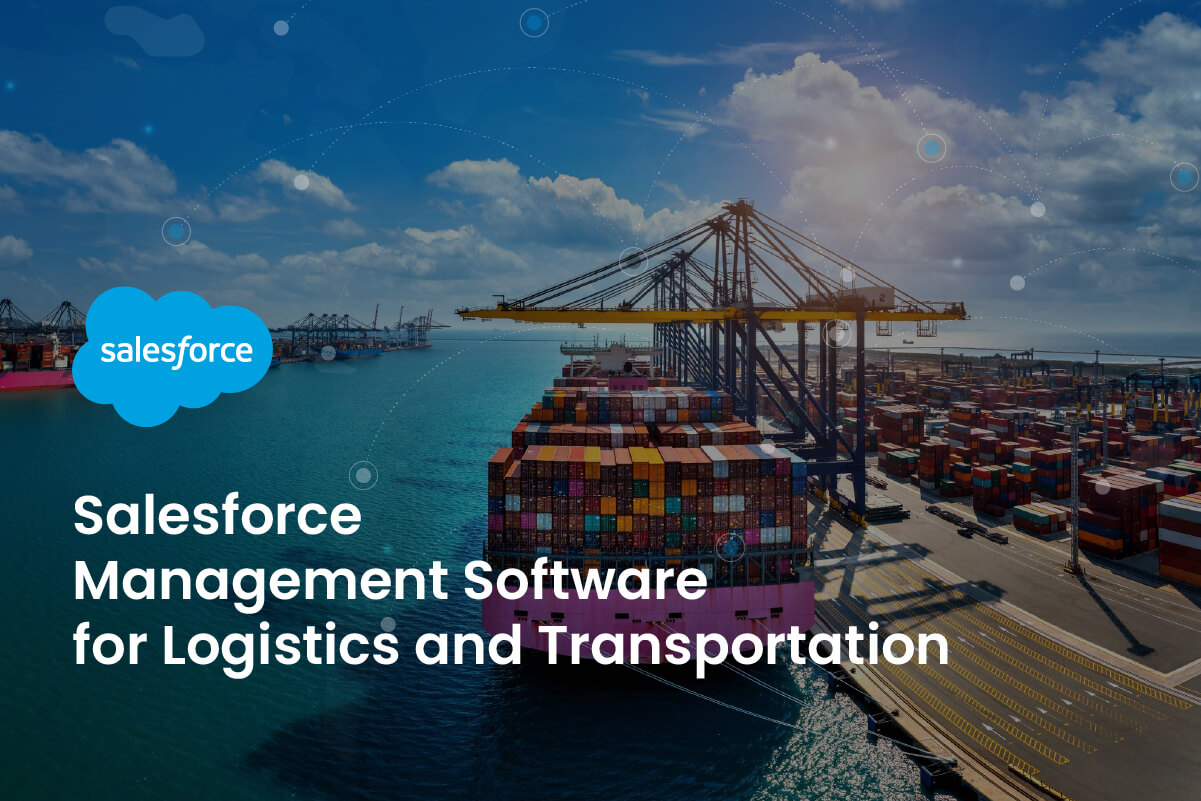 Business operations are vital tools in this competitive world of logistics and transportation. In this fast-paced business, the ability to monitor shipments, manage a network of suppliers, and coordinate fleets effectively may be the difference between success and stagnation. Luckily, the evolution of technological software presents the opportunity to develop Salesforce solutions for meeting the needs of companies involved in logistics and transportation.
As per AlliedMarketResearch, the global Salesforce automation software market was worth $3,872m in 2016 and is projected to be worth $7,773m by 2023 with a CAGR of over 10.6%.
Due to this constant rise in demand, it's a win-win for startups and enterprises to invest in developing logistic software to grow their business and multiply their revenues. Transportation software is becoming popular in the industry for providing an all-inclusive platform that helps companies streamline operations, improve customer relations, and increase general productivity. 
Understanding Salesforce Management Software
Salesforce management software, commonly called Salesforce, is an internet-based Customer Relationship Management (CRM) solution with a complete range of tools and features aimed at assisting businesses in managing different aspects of operations such as sales, customer service, marketing, and many more.
Salesforce is most noted for its CRM capability, though it transcends mere CRM and is an all-around business management tool that goes beyond the conventional role of a CRM. Below are some of the other aspects of Salesforce management software:
Customer Relationship Management

Sales automation

Marketing automation

Service and support

Customization and integration
Why use Salesforce Management Software for Logistics and Transportation?
Below are some reasons why businesses should start investing in transportation management software for their processes: 
1. Enhanced visibility and tracking
Real-time visibility into your operation is an indispensable asset in the logistics and transportation industry. Using a transportation management system software boasts extensive tracking capabilities for product movement, vehicle location, and shipment status. This allows for better decision-making in real time.
Say, when unforeseen problems are delaying a delivery, they can be rerouted instantly and notify their customers to avoid further complications. It is instrumental in determining congestion or any weaknesses in your supply chain so that you respond proactively. 
2. Improved Customer Relationship Management (CRM)
One would certainly agree that without good customer relations, no business can survive for long in the sphere of logistics and delivery services. Customized CRM development can do wonders for business operations as they automatize several processes and, therefore, reduce human errors. The Salesforce software solutions have developed an effective central point to keep customers' data as in ERP and CRM; thus, they can be easily managed. This enables you to monitor customer preferences, past communications, and feedback so that you provide highly personalized and prompt responses to customers.
CRM customization brings forth a high level of consumer satisfaction and loyalty. If, for example, a client wants the products delivered in the afternoon, you could effectively guarantee that this is fulfilled on every occasion using Salesforce. Also, Salesforce's CRM allows you to be proactive in managing consumer problems like complaint handling and dispute resolution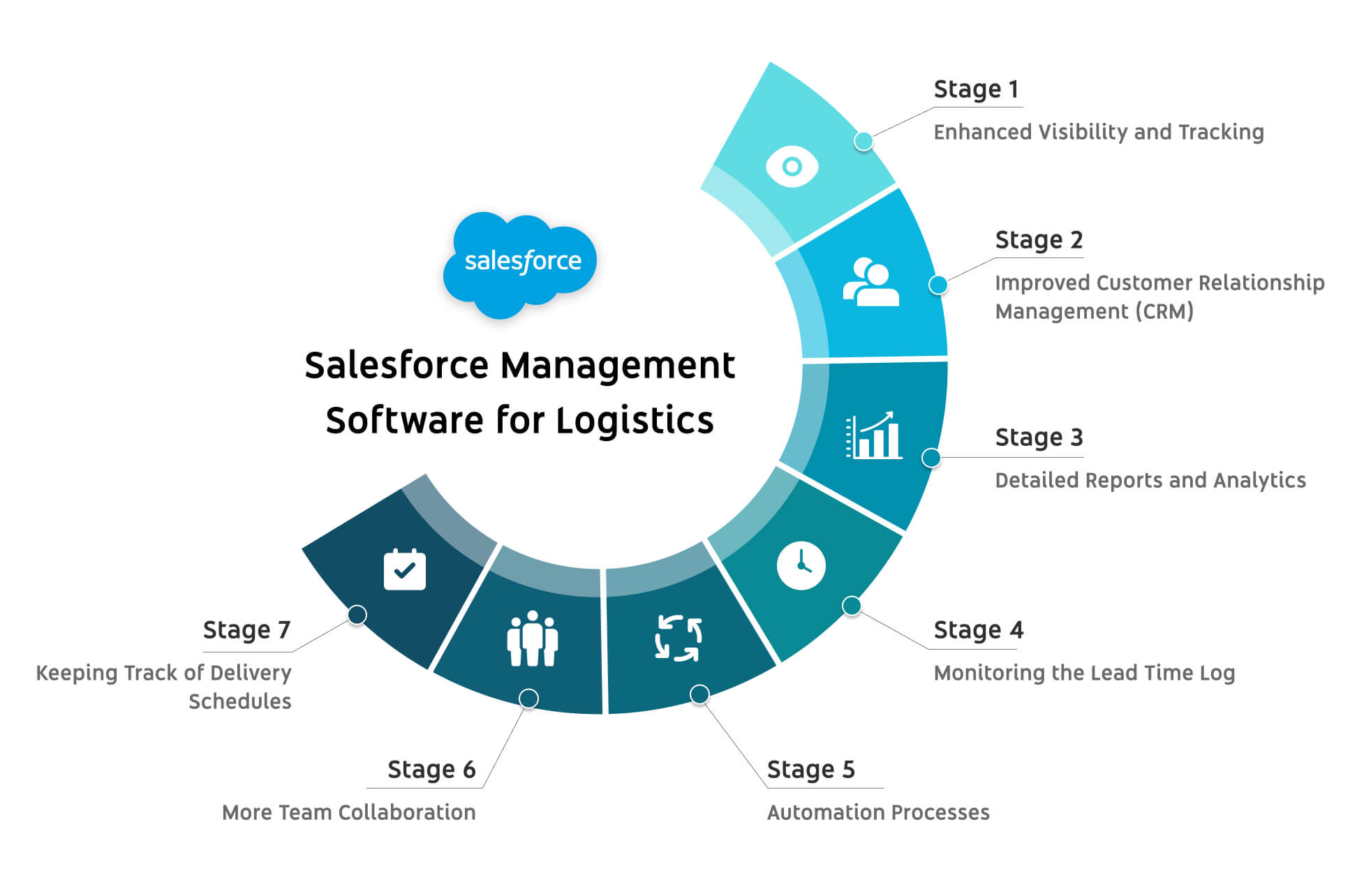 3. Detailed reports and analytics
Reports and data visualization are key components of Salesforce essentials to allow you to get a better understanding of the workings of your organization. From ad campaign stats to sales to other important metrics, you may also track your business's progress directly. This helps avoid bottlenecks or future problems in finding distribution to different departments within the organization.
Well, you could also use a Salesforce commerce cloud for building your website for smooth automation and better analysis of performance. In this case, there is a flexible centralized dashboard as well, along with real-time metrics, so you should be fine with losing everything. 
4. Monitoring the lead time log
All enterprises, no matter how small or big, always require good time management skills. This is especially important in the logistics and shipping industry, considering the growth of online enterprises.
With a one-page dashboard, shipping and logistics companies using Salesforce software can easily monitor the time of leads. This makes it possible for a company to control delivery and orders. It enables the single point management of all deliveries as it is important. 
Also, see the portfolio on Truck Logistics Tracking Service
5. Automation processes
The automation capability of Salesforce management software helps it provide solutions to everyday sales-related problems with utmost engagement. The first logistics process to automate includes request acceptance followed by order management and finally dealing closure, all through Salesforce software integration services.
Salesforce gathers messages from a number of sources and brings them into one venue where they would be presented together. Thus, a company's communication with its customers becomes more fruitful. 
6. More team collaboration
Companies that use Salesforce have higher team coordination and cooperation. With Salesforce Solutions, it provides the necessary data (prospects, leads, customers, etc.) for different departments in an organization. This will make the logistics company's operation clear to its team members.
The sales and marketing team is provided with all the information needed to perform their tasks and jobs. This will make team members more efficient and better organized. With this in mind, any new member joining another team after leaving Salesforce software integration can easily understand everything and all processes with ease due to Salesforce CRM integration.
7. Keeping track of delivery schedules
With the rise of e-commerce, delivery or shipping management is becoming an important aspect of logistics because almost all companies are going online and providing the best possible accurate and on-time tracking. Customers have been careful with their choice of obtaining products from online companies for fear of having a bad logistics encounter. Hence, it is paramount to understand the mentality of customers and solve their concerns with a full-fledged software solution.
That is the reason why logistics and transport companies prefer the Salesforce consultation service to get a foolproof guideline and roadmap for their business progress and growth. Salesforce consultants help logistics enterprises build a strategic plan to launch and run transport and shipping businesses through a sound technical solution of Salesforce with a central interface for storing, searching, tracking, accessing, and updating all sales-related information. This helps in organizing and monitoring their orders and delivery schedules, enhances customer satisfaction, and builds confidence among them. 
The bottom line
All in all, Salesforce development services are a boon to businesses in different sectors, particularly for those belonging to the logistics and transportation industry. It can be adapted to suit your organization's growth needs in case you are a startup trying to lay a strong foundation or an established firm searching for ways to streamline its activities.
It is not an exaggeration to say that if a company trying to optimize its logistics and transportation operations or any other firm striving to strengthen its ties with customers, investing in the Salesforce software solutions is not just an option but a transitionary move to enhanced success and sustainability of transport and shipping industry. 

Salesforce for Transportation & Logistics: INFOGRAPHIC